Roofing Installation Services in the Tampa/Brandon, FL Area
Shingle Roof Installation Services in Florida
We provide exceptional roofing installation services for residential customers in Tampa/Brandon, Florida. At Regal Roofing, we are committed to offering you quality roofing services that will exceed your expectations. Whether you need a roof installation or repair, our experienced team is ready to assist you with all your roofing needs.
How Do We Install Roof Shingles?
Our first step at Regal Roofing is to remove the old shingles and inspect the roof deck to ensure that there is not any damage or rot. Then, our expert team will install a waterproof barrier to prevent any water penetration. Next, a layer of underlayment is installed to provide an extra layer of roof protection. Finally, our team will install the shingles, starting at the bottom and overlapping each row. We're dedicated to quality roofs, and will ensure that all shingles are properly fastened and sealed to prevent any roof leaks.
When Do You Need a Residential Roof Installation?
Are you wondering when you should consider a residential roof installation? Here are a few instances when it may be necessary:
1. Leaky roofs:
If your roof is leaking, it may be a sign that it needs to be replaced. A leaky roof can cause water damage and lead to more expensive repairs in the future.
2. Damaged shingles:
If you notice that your shingles are cracked, missing, or damaged, it's time to consider a new roof.
3. Unwanted roof plant:
If you have plants growing on your roof, it may be a sign that your roof is not properly draining water, which can cause significant damage over time.
4. Granule loss:
If your shingles are losing granules, it can mean that your roof is aging and needs to be replaced.
Our Roofing Installation Certifications and Reviews
Our team is dedicated to providing high-quality roof installations to all Tampa homeowners. Regal Roofing is a GAF Master Elite contractor, providing roof installations that exceed Florida building codes. We are also an A+ BBB Accredited Business with 5-star reviews from local Tampa residents. With experience installing over 1,300 roofs, we're ready to help with your residential roof replacement.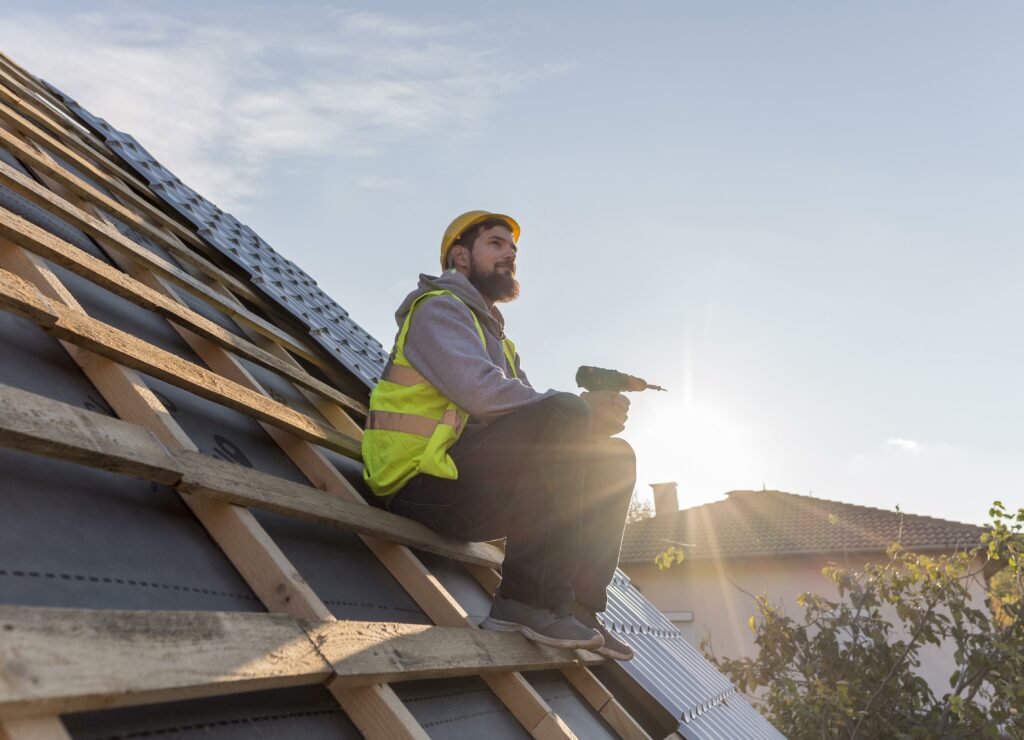 Our 3-Step

Residential Roof Installation Process
If you're looking for roof installation services, but are worried about the process, we have you covered! At Regal Roofing we use a simple three-step process for installing roofs. This process is easy and quick, so you can have a perfect roof without the hassle.
Step 2. Estimation & In-Home Visit
Let us know if you would like to meet in person or have an estimate sent via email.
Schedule an in-home visit or
Have an estimate sent to you in 48 hours.
Schedule Roof Installation.
Choose Regal Roofing for your Roof Installation Needs
Why should you choose Regal Roofing to install roofing for your home? Here are a few reasons:
We Use Top-Quality Materials

Our roofing experts at Regal Roofing use top-quality materials for every roof installation project. We understand that your home is a significant investment, and we want to ensure that your new roof lasts for years to come! That's why we only use materials from trusted manufacturers, and our team is trained to follow industry-standard techniques to install roofing.

We Have the Best Roofing Experts in Tampa/Brandon

We have the best roofing experts in the Tampa/Brandon area. Our team is fully licensed and insured, and we have years of experience in the roofing industry. We are committed to providing the best service possible and will work with you every step of the way to ensure that your new roof is installed to your satisfaction.

We Offer the Best Service at An Affordable Price

We believe that everyone should have access to quality roofing services, which is why we offer our roof installation services at an affordable price. We understand that a new roof is a significant investment, and we want to make sure that our customers get the best value for their money. Our pricing is transparent, and we will work with you to find the best solution that fits your budget!

Free $500 New Roof Warranty

At Regal Roofing, we also offer a free $500 new roof warranty. We stand behind our shingle roof installation, and are confident that our roof installations will meet your expectations!

We Offer industry-leading warranties

Our standard warranty is GAF's Silver Pledge warranty. This warranty states that 10 years of labor is backed by the manufacturer and 50 years is backed for materials. We also offer an optional Golden Pledge warranty, covering 25 years for labor and 50 years for materials.
Schedule a Free Roof Inspection Today!
If you're in need of a new roof installation or replacement, choose Regal Roofing. We offer top-quality materials, the best roofing experts in the Tampa/Brandon area, and the best service at an affordable price. You can schedule a free roof inspection today by clicking the button below. We're ready to help you with your roofing needs! 
We understand that you may have some questions regarding your roof installation. That's why we've compiled some of the most commonly asked questions to help you make an informed decision!